Something is off and you are not feeling fulfilled in your current job.
You're too early in your medical career to walk away from medicine completely, but something needs to change.


Should you go part-time?
Should you switch jobs or practices?
Go into private practice?
Should you do something non-clinical with your degree?
Or maybe you are experiencing burnout and need to work through that first.
There are lots of options, but it can be hard to figure out what you need and what's best for you and your family.
Well, Drs. Archana Shrestha and Amber Robins, the CoFounders of Women in White Coats, are here to help work through burnout and figure out a career move too.
We have been through numerous career transitions and know exactly how difficult it can be to make a decision and take the leap of faith that is required for a career move.
As your coaches, we will help you work through burnout and gain clarity, take back control of your medical degree and help you uncover the best career solution for you and your family.
WHAT CLIENTS ARE SAYING:
"I found the answers I was looking for through Archana's guidance. She gave me precious tools and suggestions."
- Dr. Marta Bande, Interventional Cardiologist
"I didn't know the path forward and the wonderful CoFounders helped me figure it out." - Dr. Steph Lee, Pediatrics & Preventative Medicine
"I realized I'm worth the investment and investing in myself to work with a coach." - Dr. Nicole Plenty, Ob-Gyn, MFM


"Being coached by Archana has been a very enjoyable and nice experience. She puts you at ease and gives you the tools to feel confident and empowered. She has a gentle way to show you how to find the answers you are looking for."
- Dr. Marta Bande, Interventional Cardiologist
Set up a free 30 minute Clarity Coaching session today and learn more about how coaching can help you move towards the life of your dreams by clicking here. In this session you'll gain insight on where you truly want to go.
With our Career Transition Coaching package you will get six 50 minute online coaching sessions. In those six sessions we will help you gain clarity on your career.
After your first six sessions you have the option to book additional sessions for more coaching and support if needed.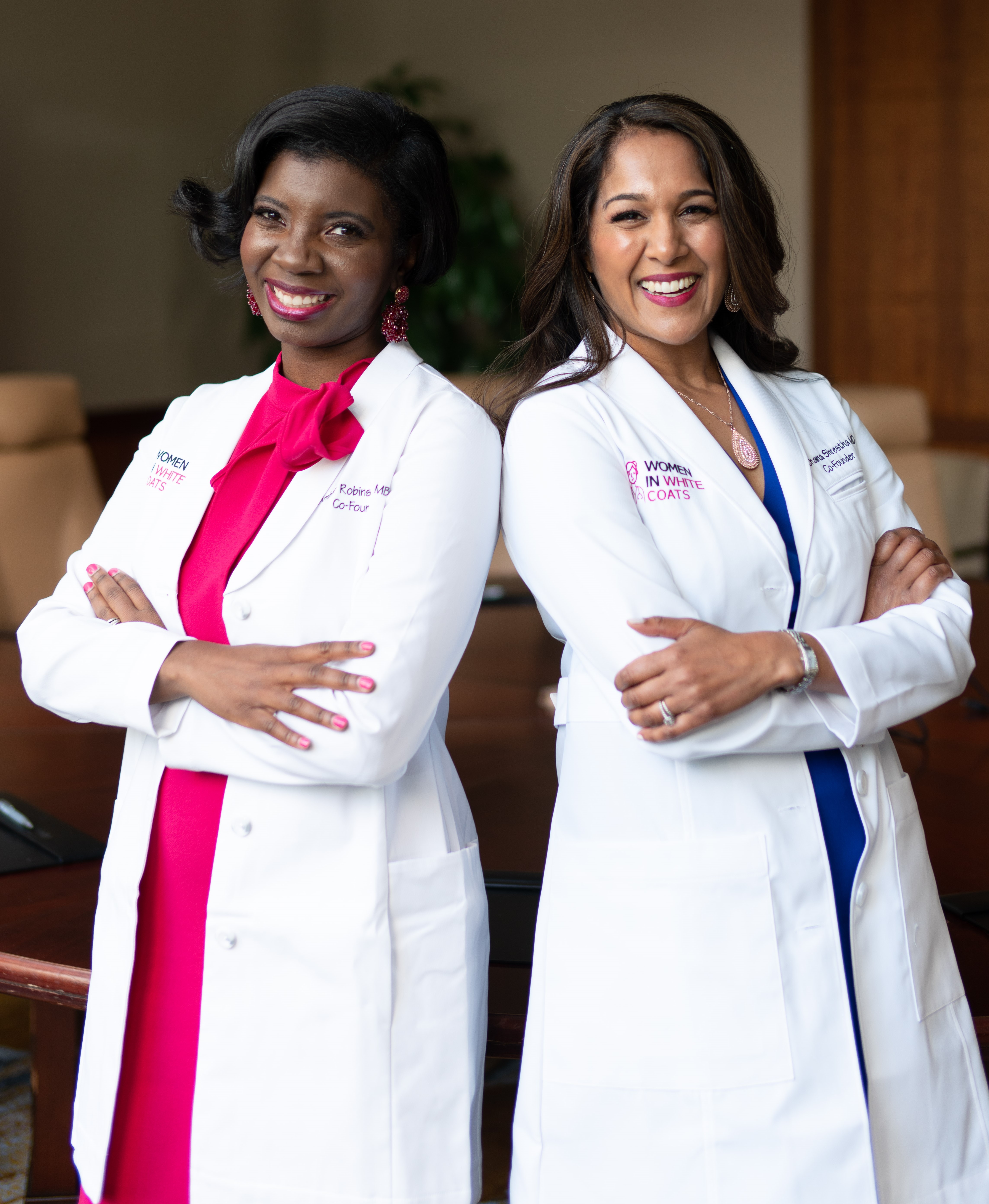 Hi, Sister Doc! We are Drs. Archana Shrestha & Amber Robins.
As the Co-Founders of Women in White Coats, we have heard from lots of women doctors who are feeling dissatisfied and unfulfilled with their careers or jobs. Some may be facing burnout and others feel out of balance with their personal and professional lives.
We totally get it, because we have both been there and have made transitions in our careers as our personal lives and circumstances have changed. Beyond practicing medicine, we also have experience as coaches and entrepreneurs, so we can guide you in non-clinical endeavors as well.
You will work with us or our hand-picked certified physician life coaches and by the end of your six 50 min sessions you will gain clarity on where to go next with your career.
We look forward to talking with you on your first coaching call!
Your Coaches,
Amber & Archana
Thanks for submitting your information! Please continue with the checkout process.
Frequently Asked Questions
Can I get a refund if I'm unhappy with my purchase?
If you are unsatisfied with your coaching, unused sessions can be refunded at a prorated rate.
How do I schedule my appointment?
Upon purchasing coaching, you'll receive further instructions on how to book a time for your appointment.
Can I purchase coaching more than once?
Absolutely! If you find yourself in need of coaching more than once, simply purchase the coaching again and simply let us know what area you would like coaching on.